Mother's side: Welsh / Tuel / Wattenburger
This is a work of love and a personal journey I began around May/April 2013. I spent several months untangling the roots of my ancestors to find both my past lineage and to resurrect their memories so that tribute might be bestowed upon their names ... for had their souls not been among us, I would not be among this life. This is my Family Tree with its vast limbs and fallen leaves, its fruit of bounty and its bittersweet seeds. It is a work of research and soul searching inspired by my passionate desire to provide much more than just names with dates ... but to discover real lives with thriving spirits ... to discover from them what I felt I needed to know to understand myself, my life, my purpose. It was a crazy, twisted and mangled puzzle and I only hope I pieced it together with true meaning and destined purpose in their honour. As far as knowing absolute that all be as I unveil, I believe that it is as close as I could weave it all into an insightful picture filled with history of days passed. I hope you enjoy and it brings inspiration ... Updated 10/05/2021 ©
The Tuel's Meet The Wattenburger's
The Tuel's were never a part of my life, as the story shall unfold. Yet my Great Grandmother was born Tuel and she married a Wattenburger.
The pictures have been provided by my mother and I hope to get more as time goes.
Daniel Tuel (Tewel, as I have found on marriage documents) was born about 1774 at Bull Run, Virginia and married Sally Coates born in 1774 Newberry, South Carolina. He died in 1862 at Fly, Monroe, Ohio.

They gave birth to Daniel Tuel born about 1792 Bull Run, Prince William, VA. He married Mary "Polly" Magdalene Main born 1791 Long Reach, Tyler, W Virgina. Documents show that Daniel Ran a ferry service on the Ohio River between Fly, OH and Sisterville, VA. Daniel died in 1877 in Monroe, Ohio. They gave birth to Presely. Mary died in 1877 and rests at the Tuel Cemetery, Fly, Monroe, Ohio.

Mary's father was Daniel Main, born about 1760 in Gernany and died about 1841 Ripley Co. Indiana. Her mother was also Mary Magdalene born in Germany.

Presely Tuel was born in 1831 Monroe, Ohio. He married Nancy Amarilla Morrison from New York. Presely died in 1913 Homer, Minnesota, and Amarilla died in 1925 Dysert, Benton, Iowa. They gave birth Hiram Wilson.

Minnesota Civil War Records show Presely Tuel's regiment as 1st Minnesota Light Artillery Battery, St. Paul between 1861-65.

Hiram Wilson Tuel was born in 1857 Winona, Minnesota. He married Martha Georgetta Steele born 1865 Wisconsin. Hiram died at Forest, Wisconsin - his grave is at Forest Hill Cemetery, Wabeno, Forest, Wisconsin. Hiram and Martha gave birth to my Great Grandmother Gracie Mae Tuel.

Hiram's marriage to Martha Georgetta Steele didn't last long. As the story goes he had disappeared after Gracie Mae was born, and apparently started a new life. Martha didn't know what happened to him and after many years, he was declared dead. Martha then married into the McBee family. (no relation to us).

Hiram's 'other life' was discovered much later. He married Lelia Fairchild and lived in Minnesota, having 5 children. He changed his name to William Hiram Tuel. Census records show he died March 9, 1917.

Gracie May Tuel was born in 1884, Iowa and died in 1978 in Lakeport, Lake County, CA. Her residence census records show she was living in North Jone, Morrow, Oregon in 1910 - and in Kelseyville/Lakeport, CA. in 1920. My Great Grandmother married Samuel "Wiley" Wattenburger (Son of Jacob Harmon Wattenburger), and gave birth to my Grandma Welsh, Dec. 4, 1902.

Wiley's first marriage was to Harriet Elizabeth Wood. They had two daughters before she died. This photo above is of his 'other' family with my Great Grandmother Gracie Mae Tuel Wattenburger who became step mother to Little Grace and Rosetta Mae. Together they had seven more children.

Martha's father, George W. Steele born in New York, 1839, and died before1920. Census records show he had two daughters: Martha Georgetta and Charolotte D. Other family members record Clarence E. Tuel, Grandson; Warren A. Blackman, Grandson; Charlot B. Appleby, Mother-In-Law. Census show that he spent 47 years in New York.

Her mother, Henrietta E. Boyd, was from Georgia, Franklin, Vermont. She was born about 1844, and died about 1920. Census records show she lived in Plains, Sanders, Montana. Her mother, Charlotte Gilder, born in 1827 in Georgia, Franklin, Vermont and died in 1912, Britten, Marshall, South Dakota.

Her father, Robert S. Boyd, was born in Vermont in 1814, and died in South Dakota 1876.

Martha remarried into the McBee family.
This is Gracie Mae Tuel/ Wattenburger's
Mother and Step Father McBee.

My Grandmother, Elsie Evelyn Wattenburger
daughter of Samuel Wiley and
Gracie Mae Tuel Wattenburger





Elsie Evelyn Wattenburger Welsh, daughter of Samual "Wiley" Wattenburger and Gracie May Tuel Wattenburger of Lakeport, California - my Grandmother. She was born in Oregon on December 4, 1902. She married John Alton Welsh from Ontario, Canada and gave birth to my Mother, Norma Jean, in Lakeport on December 21, 1932.

My Great Great Great Grandfather, Adam Wattenbarger, born April 30, 1820 (father of Jacob Harmon), married Sally Sarah Smith on 24 April 1838 in Greene County, Tennessee (born Jan. 8, 1819, GreenCo, TN, died February 22, 1891 in Bickleton, Klickitat County, Washington). She was the daughter of Frederick Smith and Hannah Morelock. Hannah's father, George Morelock's Will and Testiment.

Her Mother was Elizabeth Baughman, daughter of Samuel Baughman, son of John George Boughman born 1699 in Lucerne Switzerland. He died on 22 Nov 1753 in Bucks Co., Pennsylvania.


Great Great Grandfather Jacob Harmon Wattenburger (above), born June 9, 1840 GeeneCo, TN, he died Nov. 22, 1922, established their first home in Missouri where they lived until 1862. -

My Great Great Grandmother Mary Ann Hatcher Wattenburger, born on May 25, 1837 in Knoxville, Tennessee. She is said to have died in September of 1919 in Oregon of Illness resulting from a broken hip.

**"The Centennial History of Oregon, 1811-1912"
Wattenburger's In Oregon**

My Grandmother, Elsie Evelyn Wattenburger

Great Grandma
and Grandpa
Wiley Wattenburger

My Mother says her Grandfather was not called Samuel, he was known as Wiley.

Grandpa and Grandma Howell

My Grandfather Wiley Wattenburger died Feb. 24, 1943 and my Great Grandmother remarried John Lee Howell 1946. He was from Savanah, Floyd, Kentucky. (no relation to us) but he's the only great grandfather I knew growing up.

My mother married Russell George Baker Jr. and together had three children: Russell George Baker III, John Dennis Baker, Judith Ann Baker (my two brothers and myself).

The photo to the above is of my father and mother, Aunt Gracie and Uncle Tommy, my Mom's sister.

The photo to the right is of five generations from Gracie Mae to my first born Lea Ann.



My Grandmother Elsie Welsh - My Mother's Mother

My Grandmother - born Elsie Evelyn Wattenbauger (Hattenburger) on December 4, 1902 in Oregon married John A Welsh. She was the daughter of Samuel Wiley Wattenburger and Gracie May Tuel, Wattenburger. In this photo is my Mother and Grandmother. My Mom was born on her Grandfathers birthday December 21 in Lakeport, California (as was my Mom and me born in Lakeport). My Grandmother was the oldest of six siblings. I only remember a few of them.

Her first marriage bore her a son who died in WWII. My Mom never really knew him - she was still a child. My grandma remarried my grandpa Welsh and had her first born, named Gracie after her Mother. I spent a lot of time with my Aunt Gracie. I have lots of memories there ...

From bits and pieces of what my Mom has told me, and through some online research (links below), I have found some interesting and exciting things about my family history. I start with my Mom's Mother's side because it was the women in my life that had the most influence on me. And after learning these things about my family history it has helped me to understand things I have often wondered about myself, that now make sense. The past couple of days my Mother and I have been digging up her past and this has led to what I have learned thus far.
Gracie Mae Tuel-Wattenburger-Howell's Special Moment
We never knew Hiram Wilson Tuel so the Tuel's were never a part of our lives. After he married Gracie Mae's mother he disappeared. After years of time he was declared to be dead. It was many years later when it was discovered that Hiram Wilson did not die, he had run off and started a new family. While tracing their family history a member of the other family discovered my Great Grandmother Gracie Mae Wattenburger, who by then was remarried to John Lee Howell after the passing of my grandfather.
The article below is about the special reunion that took place and brought our families together after all those years! I remember going as a child but I never knew the importance, or at least I didn't understand its importance then.
My Great Grandmother, Gracie May Tuel, was always Grandma Howell to me, which was what her name from a second marriage after my great grandfather, Samuel Wiley Wattenburger, had passed on, so no relation to the Howell name. I never knew my real great grandfather. Great Grandma and Grandpa Howell were a big part of my childhood life. It's interesting to note that the name Tuel can be traced to the ancient Celtic culture of Wales. It's interesting to know the surname Tuel is derived from the Welsh word "tew". Maybe that's why I love the Celtic music and culture so much.
My Mom says Great Grandma and Grandpa Wattenburger lived just down the road from them and she stayed with them quite a lot while my grandma worked in the fruit cutting sheds.
Her memory of it is still vivid and describes it as an old two-story house up against a hill. She was told that it was once a stage coach stop during the 1800s before they bought it. Grandpa Wattenburger was a hay and wheat farmer.
My Great Great Grandfather, Jacob Harmon Wattenburger was born on June 9, 1840 in Greene County, Tennessee. He died in November of 1922 in Echo, Oregon of blood poisoning from an infected foot.
I found this information at Rootweb Ancestry at several ancestry pages:
Jacob Harmon and Mary Ann Wattenburger established their first home in Missouri where they lived until 1862. In 1862 Jacob and Mary left by covered wagon train from Missouri, headed for California, with childeren Eliza and William Jackson Wattenburger (age 2). William became very ill with what was then called "bloody flux" or "summer complaint." He was so seriously ill that the Wattenburger wagon stopped near the location of Salt Lake City, Utah, for the child to die and be buried. Instead, the child recovered, and the family proceeded on to Sacramento, California, where Jacob H. and his father "Ad" Wattenburger, with a 3rd partner, engaged in mining. The 3rd man absconded with what little money they had made. The family then moved to Lakeport, California, where Jake, Ellen, Samuel Wiley, Lon and Ollie were born. Three other childeren died and were buried in Sacramento. According to Helen M. (Wattenburger) Dorman, her "Uncle Jake", Jacob Harmon Wattenbarger, once spent time as a prisoner in Alcatraz, in the San Francisco Bay, for saying "Abe Lincoln's dead and in hell I hope". Alcatraz was a fortress during the Civil War and although never saw any battles, was used for confining prisoners of war.
My Great Great Great Grandfather, Adam Wattenbarger was said to be a stockman and farmer. He was a native of the state of Tennessee and as boy grew up in Missouri. Records show he came across the plains to California in 1862, and settled in Yolo County, buying land. Two years later he sold out and moved to Mendocino County where he spent another two years then went to Lake County, CA. He's known to have lived there for a period of fourteen years.
He owned considerable property in the East and was quite well off but the war hurt him in a financial way, destroying the many improvements which he had (at great pains) on his land. Coming to Klickitat County, Washington in 1880's he lived near Bickleton until February 23, 1887, when he passed away, having reached the age of 68. He was of German descent, but his forefathers had lived in Pennsylvania for several generations. His wife, whose name was Sally Sarah Smith was also a native of Tennessee, born in the same town that her husband was brought up in.
* The surname Wattenburger has different spellings but according to House Of Names it is first found in Austria, where the name Wartenberg became noted for its many branches in the region, each house acquiring a status and influence which was envied by the princes of the region. In their later history the name became a power unto themselves and were elevated to the ranks of nobility as they grew into this most influential family.
Some of the first settlers of this family name or some of its variants were: Johann Wattenberg, who settled in Philadelphia in 1753; and Charles Wartenberg, who was naturalized in Michigan in 1867.
Descendants of Johann Adam Wuertemberger
JOHANN ADAM 1 WUERTEMBERGER was born Abt. 1735 in Ilbesheim Baden Wuertemberg Germany, and died 1785 in Reading, Berks County, Pennslyvania. He married ANNA MARIA STROHECKER Abt. 1756 in Reading, Berks County, Pennsylvania. She was born Abt. 1737 in Germany, and died Bet. 1764 - 1782 in Pennsylvania - A detailed record of the Wattenburg families

Tracing the roots of the Tuel's
Upon researching my Great Grandmother's name, Tuel, it seems Welsh surnames are relatively few in number, but they have a large number of spelling variations. The earliest is found during the Middle Ages when Welsh surnames came into use. As was in those days, Scribes and church officials recorded names as they sounded. It was also common for members of a same surname to change their names slightly
From the House Of Names

""The first finding of the name is found in Cardiganshire, where they held a family seat, anciently. Tradition holds they were descent from Rhodri Mawr, the first great King of Wales through Lord Rhys, Prince of South Wales. Gwenllian, daughter of John Tew married Dafydd Llywellyn Lloyd of Castle Howel, first knight of the shire for Cardiganshire. "Tew" is the Welsh word for "Tuel" and can be traced to the ancient Celtic culture of Wales."
Burke's History of the Landed Gentry or Commoners of Great Britain & Ireland is a Genealogical and Heraldic History of The Commoners of Great Britain And Ireland Enjoying Territorial Possessions or High Official Rank: But Uninvested With Heritable Honours.
In the History of the Commoners of Great Britain and Ireland, Gwenllian Tew is listed as:
Lloyd, of Dan-yr-allt.
Lineage.
Davydd Llewellin Lloyd , esq. of Castle Howel , first knight of the shire for Cardiganshire , m. first, Lucy , daughter of Jenkin Lloyd , of Llwyndafydd , and secondly, Gwenllian , daughter of John Tew. (There are pages and pages of documents recorded)
It was at this point that the Tuel's married into this family line but I have not found anything on the Tuel's them self. However, I did discover some names I found in the "Cecil" line and I found this both exciting and perplexing and things got even more confusing ... but I'm trying to piece it together and this is what I have done so far ...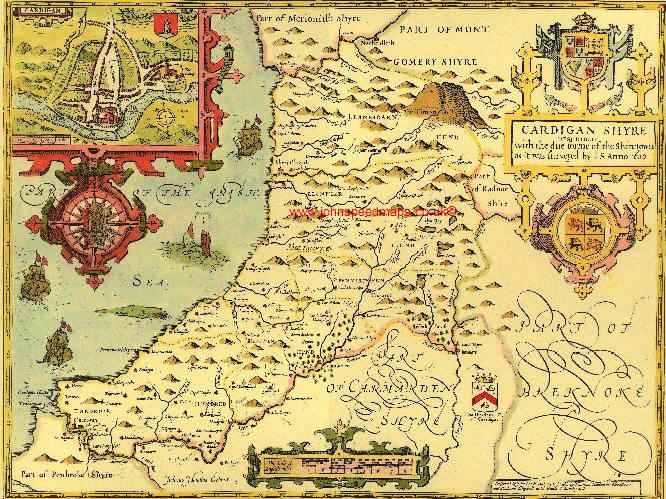 When Rhodri died he left at least four sons to share his land between themselves. The traditional account is that his eldest, Anarawd, became king of Gwynedd and the head of the subsequent House of Aberffraw which produced Gruffydd ap Cynan and Llywelyn the Great. Another, Cadell, was given Ceredigion and killed his brother Merfyn to claim Powys as well. Cadell's family was later known as the House of Dinefwr after its base of operations was moved by Hywel the Good to Dyfed following another (supposed) inheritance via his marriage to Elen ferch Llywarch. Hywel's wide domain, later known as Deheubarth, briefly eclipsed Gwynedd under his immediate heirs before fracturing.

A fourth son, possibly too young to have been considered for the first division of Rhodri's lands, took part in Anarawd's 881 revenge against Mercia and, wounded there, became known to history as Tudwal the Lame, a condition disqualifying him from rule under Welsh customary law.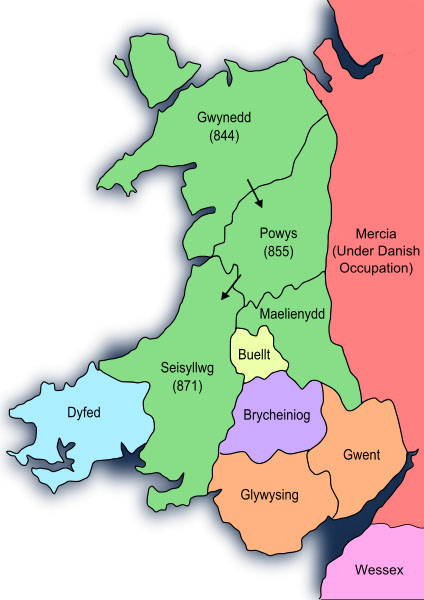 Cadell ap Rhodri (854–909) was King of Seisyllwg, a minor kingdom in southwestern Wales, from about 872 until his death. Cadell was the second son of Rhodri the Great of Gwynedd and Angharad, a princess from Seisyllwg. In 872 Angharad's brother Gwgon, King of Seisyllwg, drowned without leaving an heir. Rhodri became steward over the kingdom, and while he was unable to make a legal claim to the throne, he was able to install Cadell as king.
Seisyllwg was a minor kingdom of medieval Wales but it's unclear when it emerged as a distinct unit, but according to later sources it consisted of the former Kingdom of Ceredigion plus the region known as Ystrad Tywi. Thus it covered the modern county of Ceredigion, part of Carmarthenshire, and the Gower Peninsula. It is evidently named after Seisyll, King of Ceridigion in the 7th or early 8th century, but it is unknown if he was directly responsible for its establishment. In the 10th century Seisyllwg became the center of power for Hywel Dda, who came to rule most of Wales. In 920 Hywel merged Seisyllwg with the Kingdom of Dyfed to form the new kingdom of Deheubarth.
It's clear the Tuel's and Cecil's (Seisyll) crossed paths in another time in days gone by, and dwelt on the same lands, and perhaps this is the Tuel line, I don't know. I want to continue the search further ... in which I shall add to the family history.
There are several names that cross the lines as you will see if you check out all the links I've posted. It's quite an interesting read, especially when the picture starts to become clearer.
One of interest is Llywelyn ap Seisyll (or Seisyllt; died 1023) was an 11th-century King of Gwynedd and Deheubarth in present-day Wales. He was noted as "King of the Britons" in the Irish Annals of Ulster. Llywelyn's wife Angharad was the daughter of Maredudd, a grandson of Hywel Dda's southern dynasty who ruled much of Wales from AD 989 to 999.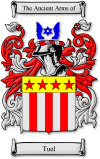 In the late 19th and early 20th centuries, many people from Wales joined the general migration to North America in search of land, work, and freedom. These immigrants greatly contributed to the rapid development of the new nations of Canada and the United States. They also added a rich and lasting cultural heritage to their newly adopted societies. Investigation of immigration and passenger lists has revealed a number of people bearing the name Tuel:."
Tuel Coat of Arms Image copyrighted as marked)
More recent history on the Tuel's
The Seven Ranges (also known as the Old Seven Ranges) was a land tract in eastern Ohio that was the first tract to be surveyed in what became the Public Land Survey System. The tract is 42 miles (68 km) across the northern edge, 91 miles (146 km) on the western edge, with the south and east sides along the Ohio River. It consists of all of Monroe, Harrison, Belmont and Jefferson, and portions of Carroll, Columbiana, Tuscarawas, Guernsey, Noble, and Washington County.

Daniel Tuel ran a Ferry Service on the Ohio River
between Fly, OH and Sisterville, VA

.

More recent records show that Daniel Tuel purchased 40.37 acres along the Ohio river in August of 1837 (1 NESE OHIO RIVER SURVEY No 1 N 4 W 35).

Through an Ancestry Contribution from Ancestry.com I found this public remembrance and I feel it should be shared here.

---

"With few, if any, bridges over the Ohio river in the early 1800s, the ferryboat was a necessary part of westward expansion and everyday life. Mary and her husband, Daniel Tuel, Jr., ran Tuel's Ferry Service on the Ohio River between Fly, Ohio and Ezekielton, Virginia (later called Sistersville, and now in West Virginia). The Sistersville Ferry Service* begun in 1817, still in operation today and known as the oldest ferry in Ohio, may be one and the same; however, according to the "Combined History and Atlas of Monroe County, Ohio" (available at the Monroe County Historical Society), the Tuel Ferry was believed to have been established in about 1804. Knowing that Daniel Tuel, Jr. was born in 1792 and married to Mary in 1812, Tuel Ferry Service must have been established by Daniel Tuel, Sr.

Monroe Co., Ohio Newspaper Abstracts (Volume 4, Page 49)

Spirit of Democracy – 27 Oct 1874

"Ferry license of Mrs. Mary Tuel renewed 22nd inst. for one year."


Unless this license was for a daughter-in-law or granddaughter, on this date in 1874, Mary (Main) Tuel would have been 82-1/2 years old. She lived to be 85. The 1877 Ohio River map made in her last year of life, seems to indicate the ferry and property owned by "Mrs. Tuell."

The area of the Ferry seems to have been previously owned by Mary's father Daniel Main, as indicated by the Monroe County History and Genealogy Website which says that "Daniel Main settled opposite Sistersville, West Virginia several years prior to 1800."

*In "Sistersville Ferry Co. v. Russell," (1903) the ferry mentioned as "across the Ohio river from a point in Lincoln district, in said county of Tyler, [was] on land belonging to E. W. Talbott, C. Tuel, S. Tuel, K. Tuel, E. E. Tuel, and F. D. McCoy, partners in business as the Sistersville Ferry Company." Said company's landing was on the farm of the Talbott Bros., in Monroe county, Ohio.



Source: Lawyers' reports annotated. 1888. Rochester, N.Y.: Lawyers' Co-operative Pub. Co. pp. 513-515.http://books.google.com/books?id=bCM8AAAAIAAJ&dq=Tuel%2C%20Mai n%2C%20Monroe%20County%2C%20Ohio&lr=&pg=RA1-PA515

John Alton Welsh - My Mother's Father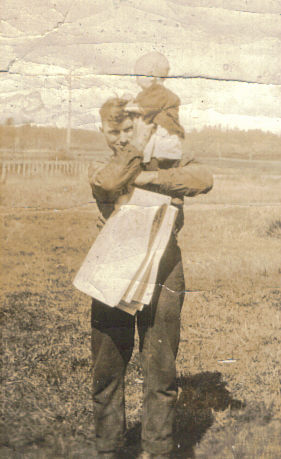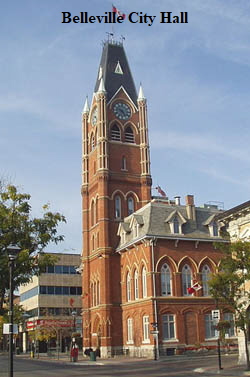 My Grandpa was John Alton Welsh born on October 31, 1899 in Belleville, Hastings, Ontario, Canada, although he told everyone that he was born in Sweetwater, Montana because of immigration. His Mother, Hannah Augusta Thrasher, Welsh died when he was young and his father, Thomas Edward, born Dec. 1867, also in Ontario, remarried. According to my Mom he didn't get along with his father so he ran away from home at an early age. He hopped a freight train and came to California with the hobos.
His parents Thomas and Hannah were married in Foxboro in 1893, Dec., and settled in Hastings Ontario. He had two step-brothers: Gardiner and Nelson, that we are aware of, however know nothing about them except perhaps that they remained in Ontario, Canada.
Thomas father, Charles Welsh married Elizabeth Robinson, both born in Ireland. Their residence is listed Hungerford, Hastings, Ontario in 1910 when Elizabeth passed away. They were both Weslyan Methodist. She was a member of the Methodist Church at Moira. Charles also died in 1910.
* From what we have learned is Charles was born in Ireland about 1842 and came to Canada about two years old. We think his fathers name was Hugh Welsh. Their travel would have been right around the Great Potato Famine that began in 1845 and lasting for six years, the potato famine killed over a million men, women and children in Ireland and caused another million to flee the country.
My grandfather John Alton Welsh left his family behind and started a new life in California - though he did keep some kind of contact with two brothers, who remained in Ontario. His first job in America was a short order cook. When my grandpa met my grandma he was working for the California highway road construction. One day, after they were married, my grandpa had an accident which cut off one of his fingers. I remember he was missing a finger but I didn't know how until now.
My mom said grandma had to drive him to the doctor which was 50 miles away, and she had never driven a car before. She learned to drive, for the first time, over steep windy, narrow, dirt roads with a stick shift in a Model A Ford as she was trying to get him to a doctor.

Being that my grandpa was only 5 foot 2, and my grandma was 5 foot 9, every one called him "Shorty". After he quit road construction he got a job as a foreman at a fruit drying yard, and he would have to spend 24/7 at the job site. His living quarters were in an old shack, very rustic. However, my grandma, mom, Aunt Gracie lived in a house owned by my great grandparents.

When my grandpa was not working at a paying job, he was busy building a new house on the property next door - which is the house I remember as a child. Mom used to point out the house next door and tell me that's where they used to live and she was born in. There was already a house next store, but it was very small and it needed to be renovated and added on to. My grandpa even hand-dug a basement and built over it and grandma canned every year so it was always full - and on hot summer days (as I spent a lot of summer days) I used to go down there to cool off.. He was a very hard-working man. The house stood on a knoll with several large Live Oak trees around it. There was one huge old Oak tree that grandpa made a circular driveway around just so the tree could live. In the circle was a patio and I used to sit out there and read.
They raised chickens and pigs, and I helped him many times collect the eggs. They didn't have any pigs by the time I came along but he planted four acres of walnuts around the house and I remember them trees. My grandpa loved to garden and there were lots of flowers and shrubs. It was my Mom's home and she said it was really quite lovely. I just remember having so many experiences there. It wasn't a big house but it was a farm house and filled with lots of memories.
My grandpa then bought a large orchard about five miles away which I used to pick walnuts there and make a little summer money filling gunny sacks full, although it also consisted of pears and prunes which I ate a lot of right off the trees. The orchard took up most of his time and it was a lot of work. When it was time to spray the pear trees, he would get my Mom up about 4 A.M. and take her to the orchard to drive the tractor that would pull the sprayer. She said she fell asleep at the wheel a couple of times and ran into a tree. However, he never scolded her about it. She can't say that my grandpa ever punished her but if she sassed her Mother, he would box her across the ears.
My Grandpa was a quiet man but he taught me many things I am grateful for. As with my Grandma, she was a rock in my life at one time ...

- A little Welsh history -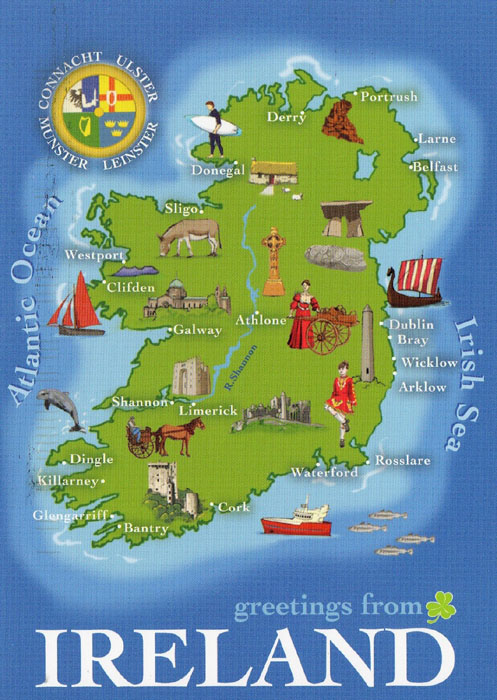 Welsh/Walsh family name originated in Ireland, and settlers of that name traveled to and fro between Ireland and Wales. In medieval Ireland the generic terms 'le waleys' and 'walensis' (among others) were used to indicate 'a Welshman'.
Walsh is a semi-translation of the early Irish surname Breathnach, meaning 'Welsh' or 'Breton', later anglicised as 'Brannagh' and 'Walsh'. The Walsh surname has the same historical origin as Wallace, Wallis and Welch, but arrived at its present form by a more circuitous route. These surnames derive from the Anglo-Saxon / Old English term 'wælisc' (or wealas), used in different parts of early Britain to denote the native Welsh or Britons.
The Walsh surname in Ireland had its Irish roots in the Welsh and Welsh-Norman clans who first participated in the Cambro-Norman invasion of Ireland. As cited by J. C. Walsh (Walsh 1170-1690), "they more than likely came from some of the leading houses of Wales." Some have placed their relation and descendancy from Owen Gwynned, Prince of North Wales, and his sons Ririd and David.
In Ireland, unlike many of the early Cambro-Norman and Anglo-Norman families such as the Burkes, the Fitzgeralds, etc, who can trace their ancestry to a small number of known individuals, the Walsh family name arose independently in many different places, making much more difficult to trace.
There was much in common between the early Welsh and the Irish. They were of the same Gaelic stock, and had the same system of selecting rulers by tanistry. Gaelic is an English word given in reference to three languages which form one half of the Celtic language family group.
These are:
* Irish Gaelic Gaeilge
* Scottish Gaelic Gàidhlig
* Manx Gaelic Gailck
"With the arrival of the Norman invasion of Ireland in the 11th century came new naming traditions to the eastern region of Ireland. These new naming traditions actually meshed fairly well with the pre-existing Irish traditions. Both cultures made significant use of hereditary surnames. And like the native Irish, the Strongbownians often used prefixes to build patronymic surnames, which are names based on the given name of the initial bearer's father or another older relative. Strongbow's followers often created names that were built with the prefix Fitz-, which was derived from the French word fils, and ultimately from the Latin filius, both of which mean son. They also used diminutive suffixes such as -ot, -et, -un, -in, or -el, and occasionally even two suffixes combined to form a double diminutive such as -el-in, -el-ot, -in-ot, and -et-in, to build patronymic names. The surname Welsh is derived from Breat(h)nach which literally means Welshman. Phillip Brenagh, known as "Phillip the Welshman" was likely the progenitor of the family. Phillip and his brother David arrived with Strongbow, in 1170.
Ireland's Great Potato Famine left the country's inhabitants in extreme poverty and starvation. Many families left their homeland for North America for the promise of work, freedom and land ownership. Although the Irish were not free of economic and racial discrimination in North America, they did contribute greatly to the rapid development of bridges, canals, roads, and railways. Eventually, they would be accepted in other areas such as commerce, education, and the arts." (Source)
* "Before there were Counties" An Irish Territorial History
* The Walsh, Welsh, or Brannagh clans
* A Comparative Analysis of the Vitality of Welsh and Irish
The Irish influence in Ontario Canada: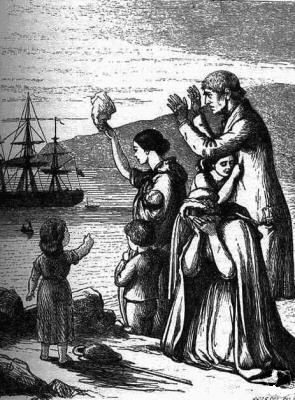 From the times of early European settlement in the 17th and 18th centuries, the Irish had been coming to Ontario, in small numbers and in the service of New France as missionaries, soldiers, geographers and fur trappers.

After the creation of British North America in 1763, Protestant Irish, both Irish Anglicans and Ulster-Scottish Presbyterians had been migrating over the decades to Upper Canada, some as United Empire Loyalists or directly from Ulster.

In the years after the War of 1812, an increasing numbers of Irish, a growing number Catholic, were venturing to Canada to obtain work on projects such as canals, roads, railroads and in the lumber industry. The labourers were known as 'navvies' and built much of the early infrastructure in the province. Settlement schemes offering cheap (or free) land brought over farmer families. Munster (particularly Tipperary and Cork) were frequent sources of these migrants.[11] Peter Robinson organized land settlements of Catholic tenant farmers in the 1820s to areas of rural Eastern Ontario, which helped establish Peterborough as a regional centre.

The Irish were instrumental in the building of the Rideau Canal. Along side French-Canadians, thousands of Irish laboured tirelessly in difficult terrain. Hundreds, if not thousands, died because of malaria.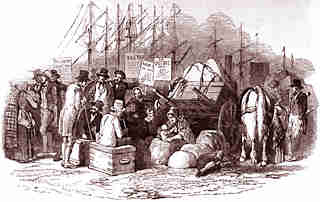 IIrish Surname Series: The Walsh Clan
Until the later part of the 1800s, the Irish came to America on sailing ships. Many excellent books are available that describe these voyages, their disgraceful and too often deadly conditions, and the reforms to remedy the plight of the migrants. Most of the Irish disembarked in New York City, a few in other American ports, and some in Canada. The cost of passage to Canada was generally less than to ports of the United States, and after arrival, the trek across the border was relatively short.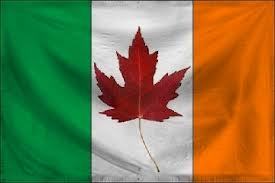 Irish Canadians
Irish Canadian are immigrants and descendants of immigrants who originated in Ireland. 1.2 million Irish immigrants arrived, 1825 to 1970, at least half of those in the period from 1831-1850. By 1867, they were the second largest ethnic group (after the French), and comprised 24% of Canada's population. The 1931 national census counted 1,230,000 Canadians of Irish descent, half of whom lived in Ontario. About one-third were Catholic in 1931 and two-thirds Protestants.

The Irish immigrants were largely Protestant before the famine years of the 1840s, when the Catholics arrived in large numbers. However, most Catholic Irish after 1850 usually headed to the U.S., England, Australia and Scotland.
Peter Robinson Settlers

In 1822, the British Government established a trial emigration scheme for Irish paupers to Upper Canada. There were two waves of emigration, one in 1823 the second in 1825. See Geni project Peter Robinson Settlers 1823-1825

The 2006 census by Statistics Canada, Canada's Official Statistical office revealed that the Irish were the 4th largest ethnic group with 4,354,000 Canadians with full or partial Irish descent or 14% of the country's total population.This was a large and significant increase of 531,495 since the 2001 census, which counted 3,823,000 respondents quoting Irish ethnicity. (More info from source)
Awesome blog of Canada today Beautiful!
Tracing the history of the Wattenburger's was much easier than finding all the information about the 'other' side, although some of the Wattenburger history got a little confusing into the great great great stuff, but I have crossed the T's and dotted the I's to the best of my ability so I'm pretty sure I have it all in order and as correct as the information that has been provided. - and if that is correct then what I have will be as well. I will be adding links for you to see more information (and to verify info) that I just can't put here but it's all very interesting and I hope you will take the time to check it out. It really is a fascinating story ... I don't really have any photos of the ancestors so I provided a sense of the era and spirit of the times. I don't claim that it is all accurate as far as the dates go. The line, however, has been traced and retraced and I don't feel there is any dispute there - and having said that ... This is still a work in process and progress ...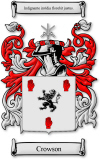 Pre-history: Names written in official documents were generally spelt as they sounded. The surname of Crowson are preserved in the family history as Crossan, Crossen, McCrossan, MacCrossin, and many others. The original Gaelic form of the Irish name Crowson was written as Mac and Chrosain, which is derived from the word cros, which means cross.
First found in Lenister, where they held a family seat at Ballymacrossan on the boarder of Lex and Offaly. They were an off-shoot of the notable Clan O'Moore (O'More), which was the leading Sept of the "Seven Clans of Leix"
(Crowson Coat of Arms)
Robert Crowson was born in 1665 Lancaster, England. He was thought to be the first Crowson to come to America from Nottingham, England.

Recorded history shows Robert Crowson arriving in America about 1686 having sailed from England and settled in Accomack Co., Virginia.

Robert had two sons: William and Thomas.

Nothing is known about Thomas, but William Crowson, Sr., born 1694, died in 1756, was born in Accomack City, Virgina. In 1716. He married Comfort Littleton, born 1698, daughter of John Littleton and, Margaret Riley (O'Rily) from England. They had six daughters and three sons: Betty, Comfort, Hester, Margaret, Sinah, William, John, Charles and one daughter whose name is unknown.

Comfort Littleton's father, John Littleton, was born in England about 1656 and brought to VA by Capt John West in 1669. His age comes from when Captain West claimed the headright for John and was judged to be 12 years old (hence born about 1656). This is in the Accomack Co court records. John was indentured until age 24.

William Crowson and Comfort Littleton's son, John Crowson, born before 1725, died 1780, Accomack county, Virginia. He married Mary Terry? Records show just a first name but I found a last name ( Here ) though it did have a question mark on it. There isn't anything else about her I have found. They had 6 children, one of which was William Crowson Sr.

GreenCo Tennessee)
Pvt. William, Sr. Crowson, born 1740, died in Sept.1814 (son of John Crowson) Jones county, North Carolina, and died April 1, 1814, Elkton, Giles county, Tennessee. He married Mary Thomas (daughter of Jordan Thomas), born 1752, Jones county, North Carolina, and died about 1820, Giles county, Tennessee.

Pvt. William Sr. Crowson and Mary Thomas gave birth to Mary (Polly) Crowson, born 1769, North Carolina.
Mary "Polly" was the sister of Aaron Crowson, of Crowson Cove (known as Wear Cove). She married William John Hatcher in 1769.

Good info here ...
Crowsons in America

Crowson/Wears Ccove
Peter Brickey House
Mary's brother Aaron Crowson is known as the first white settler in Crowson Cove, now Wears Valley in Sevierville, TN. More information about Crowson Cove at Wikipedia ( Here ). William Hatcher is mentioned in several places as the brother-in-law of Aaron. Records show that Mary "Polly" and William stayed in Crowson Cove while the rest of the sibblings had left.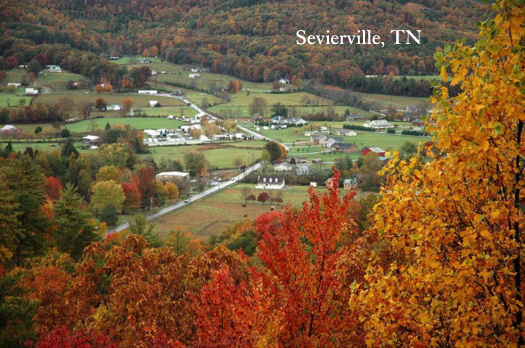 Sevier County, Tennessee is home to the Crowson's and Hatcher's. This photo is of Wears Valley, in the foothills of the Great Smokey Mountains.
Many family members were from the adjacent Green County, such as Great Great Great Grandfather Wattenburger. This picture gives you a sweeping view of the area.
Click the photo to see the first school built and read about its history.
William and Mary 'Polly" gave birth to William J Hatcher, born about 1815, he died in 1894 having served in the U.S. Civil War in the years of 1861-1865 on the Union side - 18th Regiment, Missouri Infantry. William J Hatcher married Margaret Ann Taylor, born Sept., 11, 1814. She died March 5, 1886. They gave birth to Mary Ann Hatcher, born May 25, 1837 SevierCo, TN, she died Sept. 25, 1919. Mary Hatcher married my Great Great Grandfather Jacob Harmon Wattenburger, born June 9, 1840 GeeneCo, TN, he died Nov. 22, 1922.
From the Hatcher papers

1793
William Henderson, a Lieutenant in the Jefferson Regiment of Militia, Do certify that William Hatcher hath performed a tour of duty under my command from the 190th day of Mary to the 19th day of June 1793, both days included, and is now discharged, given under my hand at Jefferson this 28th day of Marth 1793.

From "The Connections in East Tennessee":
The descendents of William and Mary are not in dispute, merely the parentage of William. William Hatcher married Mary Crowson and they came to Sevier Co. early and settled on a large farm in Wears Cove. William Hatcher's private papers have been preserved. Among them is his discharge from the Jefferson Regiment of Militia showing that he served from 19 March 1793 to 19 June 1793. Although there are no copies of his will in existence. his heirs can be deduced from the documents relative to the estate settlement.

Note: William Crowson and Samuel Wear were found in the 1783 GreeneCo, TN Tax List. They were not there in 1786 and it is being assumed that they had removed to SevierCo before 1786. SevierCo was actually created by the old State of Franklin in 1785, the State of Franklin ceasing to function in 1788. In 1792 JeffersonCo was formed and in 1795 the current SevierCo was formed from JeffersonCo. So it is not clear where William Hatcher married Mary since between 1788 and 1792, "SevierCo" was in a state of limbo. William Hatcher served in the Jefferson Regt of the NC Continental Line and it is being assumed that this regiment was formed in JeffersonCo which in 1793 would still likely be considered part of NC. Tennessee did not become a state until 1796.
----------------------------

From "The Hatcher Papers (1793-1898)" abstracted and edited by Olga Edwards, 1964:

The Hatcher Papers, in possession of Glen Hatcher of Gatlinburg, Tenn. cover the period between 1793 to 1898, a span of 105 years. For the first 58 years, each year is represented by at least one document. The papers are well preserved and on most of them the ink bright and readable. Much of the writing is hard to decipher. They can be roughly divided into tax receipts, accounts, notes, deeds and contracts. Many of the early papers were signed by "mark" with two witnesses attesting the signature. This resulted in a wide variation in the spelling of the surname. An example is the many spellings of this name: Magloughlin, MagLowgerton, McGlaughton, McLawton, etc.

The barter system is shown in these papers. For example if John Huskey made rails for Reuben Hatcher, he might be given a note for $5. Huskey would trade the note to the store keeper for $5 worth of supplies. The store keeper in turn would buy $5 worth of corn from Reuben Hatcher and pay him with the original note. Reuben Hatcher would then tear off the signature, showing it had been paid. Some of these notes passed through many hands before they were paid and took the place of currency. The notes alone provide an excellent cross section of business as it occurred in early Sevier County, Tenn. It is interesting that up to 1819 debts were sometimes paid in pounds, shillings and pence.

The land owned by William Hatcher was in Wears Cove. Apparently he settled there about the same time as did his brother-in-law Aaron Crowson. He was a resident there in 1793 when it was still a part of Jefferson County. The name of this Cove has changed with the years. Inez Burns in her "History of Blount Co." says that the original name was "Crowsons Cove". This is verified by the Hatcher Papers. On the survey plat of Col. Samuel Wear's plantation made in 1807, the road up river is labeled "to Wears Cove". In the map of Tennessee made by Matthew Rhea published in 1832 in Columbus, Tenn., it is given as "Weirs Cove". By 1898 it was called Wears Valley. In 1941 the highway sign read "Weirs Valley", however, a recent map lists it as Wears Valley.
The Hatcher Papers help to clear up some vague points in the early history of Sevier County. Fred Matthews in his pamphlet entitled "History of Sevier Co." states that Thomas Buckingham, the first sheriff of Sevier County lived with his brother Alexander on Boyds Creek. He says the initials T. B. and A. B. are carved on their old home occupied in 1950 by Paul Trundle. In the Hatcher Papers there are tax receipts signed by Thomas Buckingham, sheriff and by Nath. B Buckingham deputy sheriff. A carved "N" and a carved "A" would look very much alike. Evidently the Alexander was in reality Nathaniel or else there was another brother.

The earliest census of Sevier County was made in 1830. One value of the Hatcher Papers lies in the fact that they give us pages of many of the residents prior to that date. They threw some light on the early subscription schools. Many of the aspiring teachers could hardly write a receipt for the dues. The results of their teaching, however, are evident as after 1850 very few people signed by mark.

It is known that there was an early Baptist Church in Wears Cove but a removal letter, in the Papers, verifies that there was a fully organized Church there in 1800.

Research by Robert Nave of Compton, California indicates that William Hatcher of Sevier County was the son of Edward Hatcher of Bedford County, Virginia. Edward's will is dated 1781 and was probated in 1782. In the will he mentions his wife, Sarah, and the following children: Reuben, Lucy, Edward, Josiah (perhaps this is Elijah. The actual will was not seen), William, Rhoda, Elizabeth and Farley. Records of this estate are probably on file in Bedford County, Virginia.

Relationships within the Hatcher and Crowson families of Wears Cove are clearly defined by letters and the estate settlement of William Hatcher and his wife Polly Crowson Hatcher. Wm. Hatcher made a will but it was lost when the Sevier County Court House burned in 1854. From the deeds we learn that the estate was divided into eleven parts and was kept intact until the death of William Hatcher's widow, or the youngest heir became of age. Their children were: Elijah, Reuben, John, Nancy (wife of Spencer McBryant of Blount Co), Rachel, Mary, Richard, William, Cally Elizabeth, Rebecca (wife of Jesse Renfrow who lived in Cole Co., Missouri), the wife (name not known) of John Husky.
The Hatcher Papers go on to identify the children, birth and death dates, spouses, and other miscellaneous facts relating to this family through the many records kept for over 100 years.
Jacob Harmon and Mary Ann gave birth to Samuel Wiley Wattenburger, born 1863, died 1943. Samuel married my Great Grandmother Gracie May Tuel, born Dec. 8, 1884, Cherokee Co. Iowa. Samuel Wiley and Gracie May gave birth to my Grandmother Elsie Wattenburger.
Grandmother Elsie Wattenburger married John A Welsh, born 1899, Ontario, Canada, though census records show he was born in Montana. He had two brothers: Gardner and Nelson. There is no information I have found on him. John and Elsie gave birth to my Mother, Norma Jean Welsh Dec. 21, 1932 - Lakeport, Clear Lake, CA. (where I was born in 1953). My Mother married Russell George Baker Jr., son of Russell George Baker Sr. however, Baker is not our name. My Grandfather Baker was adopted by the Baker's as a baby and raised him until he married my Grandmother Estelle Cecil. They gave birth to my dad. My dad never talked about his father. I know he was a Merchant Marine Ship Builder on the Oakland Pier, CA and fell overboard and drowned. I do know some about his Mother, my Grandmother Estelle Cecil's side... from the Bay Area. More will be unfolding on this side on another page.
Enjoy a sweeping view from Mt. Konocti, Wright Peak - Lake County Park, Kelseyville, CA.
This mountain stands very high and I remember I always wanted to climb to the top and see the view, so imagine how excited I am to be able to see this video I found while doing my research. When my Mother was a young girl she remembers it well too. She grew up in this valley. I spent much time there, as well as being born here. Kelseyville is next to Lakeport and my Grandmother Welsh used to take me and my brothers to Kelseyville all the time. Both my grandma and grandpa were very active in the Grange, The farm Bureau, the Rebeka and Odd Fellows lodges and the Women's Club. My Grandmother was a Nobel Grand for the Rebeka Lodge and traveled all over the State of California to visit other lodges. I remember she played bingo a lot! lol. The things we remember ...I remember lots of things about my Grandma Welsh. She was a potter and had her own ceramic shop on the farm. I used to watch her work and she would let me play in the clay. I made little things. I remember the hot oven (kiln) because it amazed me. To put in a piece and it come out all glazed and so pretty. She was very creative in many ways and taught me some of the littlest things that have been the biggest things in my life. She was a farm woman, hard working, like my grandpa. They may not have known it but they had a huge influence on my life. May they be resting in peace and their journey continue on ...
I hope you enjoy the video. It's breathtaking.
All photos on this page are copyright free (family owned or public domain) unless marked otherwise