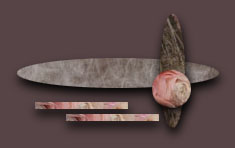 Frank Lang was an academic educator who spent a great deal of his life writing what he believed to be an important message for the world. While seeking someone to help him design his book covers, he was introduced to me. I had not read Mr. Lang's books but rather we had long talks about his vision and his research which gave me the inspiration to create what he said was truly a reflection of his greatest hope. It was through our conversations, mostly phone contact, I was able to come up with his five book covers. Frank and I had met only a few times in person as he not only lived far away, he was quite elderly and not able to travel so much. After his books were published he sent me an entire set, which I still have to this day.
I am proud and honoured that Mr. Frank Lang allowed me to create his vision for each cover. He was a kind man, a caring and thoughtful person. Extremely intelligent. And most generous.

The 6th cover was for a local man who heard about my work. He had written a book about our area of days gone by. He wanted something simple. I also have a copy of his book. My experience was most pleasant with Hugh as he shared many great stories with me ... historical accounts that perked my interest of the area in which I live.
I have no idea how to get copies of these writings, or the where about of either author. It's been so long ago, perhaps they may have even passed away.
All the same, I'm happy to share their work.